Brisbane is making waves as one of Australia's most forward-thinking cities when it comes to transportation, and guess what? Electric skateboards are right there at the forefront of this exciting revolution! These sleek boards are lightweight, easy to handle, and a breeze to master, making them the perfect choice for zipping around Queensland's vibrant capital. With a focus on innovation and embracing new ways to get around, Brisbane is truly paving the way for a brighter future.
Top 5 Skateparks in Brisbane
Let's dive into the dynamic world of skateparks in Brisbane and discover the thrilling destinations that make this city a haven for skateboarders.

Fairfield Skatepark: Fairfield Skatepark
Located in the suburb of Fairfield, this skatepark features a large concrete bowl with various transitions, ledges, and rails. It caters to both beginners and advanced skaters and provides a great atmosphere for honing your skills.
Bracken Ridge Skatepark: Located in the northern suburbs of Brisbane, this concrete skatepark boasts a well-designed layout suitable for all skill levels. With a variety of ledges, banks, and transitions, it offers a diverse range of obstacles for skaters to enjoy. There's a pump track.
Coorparoo Skatepark: Situated in the suburb of Coorparoo, this skatepark is known for its smooth concrete surface and well-maintained features. It includes a large bowl, ramps, banks, and grind rails, providing ample opportunities for skaters to showcase their skills.
Ferny Grove Skatepark: Located in the suburb of Ferny Grove, this skatepark offers a diverse range of obstacles, including ramps, rails, and ledges. With a spacious layout and smooth transitions, it provides a welcoming environment for skaters of all ages and skill levels.
Hibiscus Skatepark: Nestled within the expansive Hibiscus Sports Complex in Upper Mt Gravatt, this skatepark offers an impressive array of features that cater to both street skaters and transition riders.
EXTRA Browns Plains: This well-designed concrete skatepark features a variety of ramps, ledges, and rails that cater to skaters of all skill levels. Whether you're a beginner learning the basics or an advanced rider looking to challenge yourself, this park has something for everyone, including a pump track.
Leading the Way as an Electric Skateboard-Friendly City
Brisbane, the vibrant capital of Queensland, is carving a unique path as a city that embraces innovative modes of transportation.
In recent years, Brisbane has emerged as a frontrunner in creating an environment that is highly accommodating to electric skateboards, fostering a culture of sustainable and exciting urban mobility.
One of the key factors contributing to Brisbane's electric skateboard-friendly reputation is its commitment to infrastructure development.
The city has taken bold steps to create dedicated skateboarding lanes and paths, ensuring the safety and convenience of riders.
These well-maintained lanes, separate from pedestrian and vehicular traffic, enable enthusiasts to navigate the city with ease and confidence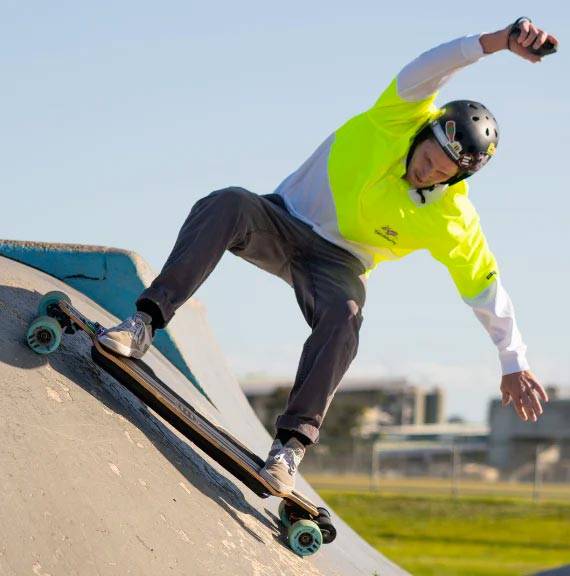 Brisbane's proactive approach also extends to its regulatory framework. The city has implemented clear guidelines and regulations for electric skateboard usage, promoting responsible riding and ensuring the safety of all residents. By establishing speed limits, safety requirements, and designated riding areas, Brisbane strikes a balance between facilitating the thrill of electric skateboarding and preserving the harmony between riders and pedestrians.
Work your way up or hit the pavement like a pro.
You don't need to be a pro skater to see the value of a quality electric skateboard for sale in Brisbane. Electric skateboards are versatile and easy to learn, making them perfect for those who get out regularly, as well as those who might not have hit the pavement in a while. All you need is a sense of adventure and a desire to get more from your experiences in the everyday.
Electric skateboards are perfect for the commuter who wants to save some time as well as the skater who wants to carve it up just for fun. Our All-Terrain modification kit means you'll get the most out of your electric skateboard, whether you're heading to your 9 to 5 or hitting up a dirt track for a wicked Sunday sesh.
Brisbane's premier electric skateboard shop
Evolve Skateboards have been designed to meet the needs of getting that perfect ride on a surfboard, snowboard or on land, with the practicality of everyday use. Whether you're looking for that old-fashioned longboard appeal, sleek carbon-fibre that can carve any terrain, or you're a purist looking for a killer kicktail, we'll have something for you. But forget what we want. Skating is about finding that perfect ride for you. So, if you're looking for your perfect set of wheels, we'll let you build it. From the deck, terrain, speed, wheels and more, you can customise your electric skateboard to exactly what you want.
FAQ: Skateboarding in Brisbane
Are electric skateboards legal to ride in Brisbane?
Yes, electric skateboards are legal to ride in Brisbane. However, there are regulations in place that riders need to adhere to. The maximum speed limit for electric skateboards is typically 25 km/h, and riders must follow the same road rules as cyclists. It's important to stay updated on any changes to the regulations to ensure compliance.
Can I ride my electric skateboard on footpaths or bike lanes?
In Brisbane, electric skateboards are generally allowed on both footpaths and bicycle lanes. However, it's crucial to be cautious and considerate of pedestrians and cyclists. Keep a reasonable speed, yield to pedestrians, and be aware of your surroundings to ensure a safe riding experience.
Do I need a helmet to ride an electric skateboard in Brisbane?
Yes, wearing a helmet is mandatory when riding an electric skateboard in Brisbane. Safety should always be a top priority, and a helmet provides protection in case of falls or accidents. Make sure to choose a helmet that meets the relevant safety standards and fits properly.
Are there designated areas or skateparks for electric skateboard riders in Brisbane?
While there aren't specific designated areas solely for electric skateboard riders, many skateparks in Brisbane are open to electric skateboard use. It's important to check the rules and regulations of each skatepark to ensure electric skateboards are permitted. Additionally, Brisbane is working towards creating more electric skateboard-friendly infrastructure such as dedicated lanes and paths.
Remember, it's always recommended to check the latest regulations, guidelines, and local bylaws regarding electric skateboard usage in Brisbane, as they may be subject to change. Stay informed, ride responsibly, and enjoy the thrilling experience of electric skateboarding in this skateboard-friendly city.
Note: This article is not to be construed as legal advice. Use common sense, and always check your local laws and ordinances to ensure you are in compliance.

Free shipping for accessories orders over $100.

Try it out and if you don't love it return it in as new condition. * See store policies.

Team of Australian based technicians and support staff dedicated to keeping you on the road.

Largest network of global support centres in e-skate.

Mastercard, Visa, AMEX, PayPal, Laybuy, Zip, POLi, Afterpay