10 Things to Consider When Buying an Electric Skateboard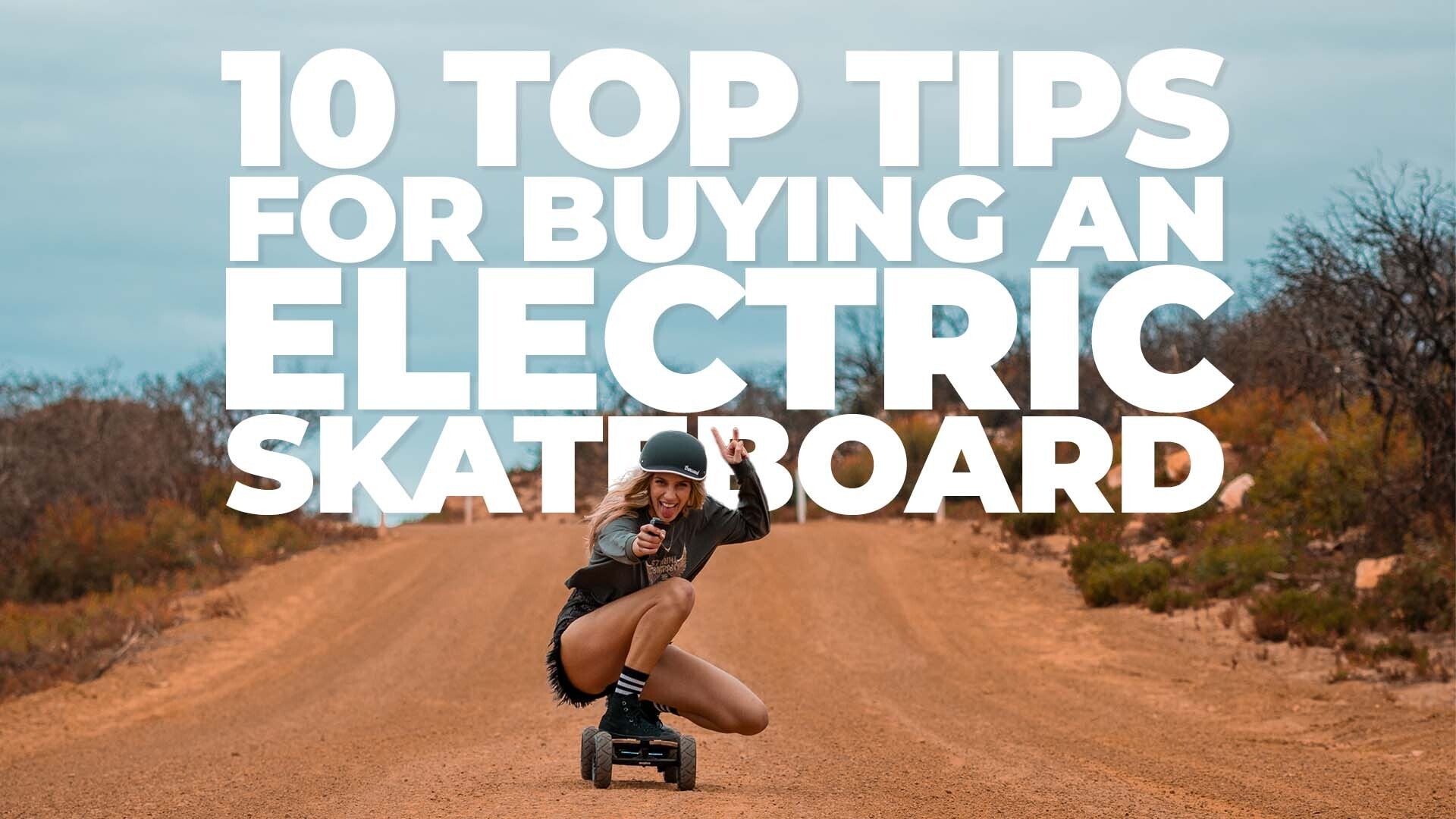 As the electric skateboarding scene has been growing massively in Australia, there's a big chance you've seen someone zipping down the street on a board with a grinning smile. Electric skateboards are fun, good for your mind & body and easy to ride. Besides that, it's a fantastic everyday mode of transport as many Aussies are finding themselves paying more than $2,500 in fuel each year for every car they own. 
If you wonder how an electric longboard works, how to ride it and what you should consider when choosing the best one for your needs, you're at the right place.
What is an electric skateboard?
Right off the bat, any rider would say that it's the most fun machine they ever bought. 
We've been trying to replicate that carve feeling you get when you ride a wave on a surfboard or that epic powder run on a snowboard. An electric skateboard is only as good as the wheels and trucks allow it to be. But if you're looking for the technical answer, an electric skateboard is a board with motors attached to the rear wheels to propel it forward.
Evolve's boards come with a remote connecting to the board via Bluetooth. With it, the rider can control the speed, riding modes, braking, acceleration and view diagnostic information. It allows you to ride the endless wave in your backyard - no need to wait for the perfect swell or snow conditions.
How to ride an electric skateboard?
For many people who buy an electric skateboard, it's their first time getting into the world of e-skating. Because you don't have to kick and push, it's easier than a regular skateboard.
To start, find an empty car park or street so you can practise it. Find your stance: get your back foot parallel to the rear wheels and angle the front foot like the image below:
Then, using SAFE mode on the remote control to get a feel of it before adding speed. When pulling the acceleration trigger, lean forward. When braking, shift some weight to your back leg. 
How fast does an electric skateboard go?
It will depend on the type of board that you have, motors, gears and terrains. An electric skateboard with street wheels will be faster than an all-terrain setup. The Evolve's smallest board can go fast as 36 km/h, while the Hadean reaches speeds up to 50 km/h. 
It's important to mention that all of Evolve's boards come with a speed control feature. You can set up the maximum speed your board goes - easy & safe. 
Ready to shred? 
Here are 10 technical aspects that you should consider when buying an electric skateboard 👇
1. How long can an electric skateboard go on a single charge?
The electric skateboard's range is influenced by the environment you are riding on, the wheels set up and your riding style. For example, street wheels will give you more range than the all-terrain ones. The first question that you need to ask yourself when considering buying an electric skateboard is what you'll be using the board. Carving/Fun? Thinking about an electric skateboard for commuting to work or school? Getting around on the weekends? Off-road? All of the above?
With that clear in mind, check if the electric skateboards on your radar will have the range to achieve that. Can you comfortably get there and back without worrying about mileage or range anxiety?
2. Electric Skateboard Repairs - Spare Parts & Support
With any technical product, you want to know the company has your back with after-sale support. The last thing you want is to end up with a dead skateboard in your shed because there are no parts available or the manufacturer went out of business. Believe it or not, this is really common in the tech industry.
There are so many electric skateboard companies out there now. When looking into figuring out which electric skateboard to buy, people are doing it wrong and only looking at the spec sheet. But one of the most important factors is service support.
How long is the warranty? How often will you have to replace the belt and wheels or other parts, and are they easily interchangeable? What is customer support like if ever there is an issue? These aspects are hugely important as your board needs to stay on the road to be enjoyed. It's also important to have a local service centre alongside a shop where you can get all the replacement parts and things that need to keep the board running.
Every Evolve board goes through a meticulous quality control process to ensure your board arrives perfect, quick, and ready to shred. We believe local customer support is incredibly important and have spent more than 10 years building a network that services 45+ countries. It's not arrogant to say no other eSkate brand has that. No one! We're the only one that can service many countries in the capacity we do.
Whether you're a first-time owner, needing spares or accessories, or in the event of something goes wrong - being able to call our team or get a fast and comprehensive reply online is peace of mind every eSkater should have.
At Evolve, we offer a 12-months warranty, and we are the only electric skateboard company with a global network of support centres, including Australia.
3. How much do electric skateboards weigh?
If you are looking for an electric skateboard for commuting, weight is an important thing to consider. Are you going to be able to carry or kick push it home? Not many vehicles can take 50 km in range, and you can carry it under one arm, take it on a bus or train, and slide it onto your work desk.
The lightest Evolve board is the Stoke (8.76 kg), and the heaviest one is the Hadean Series (12.3 kg). When comparing electric longboard weight, make sure that you consider its battery capacity and performance.


4.Performance
You have boards that get you from A to B, and then there are the ones that are a pure pleasure to ride. Look into the wheels and trucks and ask how this board would perform without the electrical setup? There's a big difference between an off-the-shelf electric skateboard vs a high-quality longboard with a motor. The wheels and trucks are particularly crucial to the overall ride performance. 
The double kingpin trucks that Evolve has on all its' boards allow smoother carving and sharp turning than the other boards are capable of, which not only feels great, but it's crucial for commuting. A conventional skateboard truck has a single kingpin, which gives one point of movement when it comes to a turn. Evolve's boards come with double kingpin trucks, which is similar to having two trucks stacked on top of one another. During a turn where a normal skateboard truck would stop turning, the double kingpin will have another 50% more to go. It will allow you to turn your board with fluidity.
5. Versatility
Another point to consider in terms of performance is the wheel set-up. In 2011, Evolve created the interchangeable gear e-skate. It opened a whole new world with the ability to use multiple styles of traditional longboard wheels on an electric skateboard. With Evolve's conversion kits, you can swap all-terrain tyres to street wheels in less than 5 minutes. The same deck, different ride feeling.
6. Motor Wattage
The listed power numbers do not tell the whole story - much more is involved in achieving ideal performance. For instance, gear ratios and motor controller parameters also hugely affect torque! Adjusting gear ratios on a motor will affect torque and speed, just like a 10-speed racing bike does when you change gears for hills or flat riding. It is vitally important to have a complete system designed to work smoothly in unison, with proven and verifiable performance.
Understanding gear ratios and how they affect performance can be tricky for beginners. That's why Evolve has a handful of Youtube videos so you can understand what you can expect of your board in terms of performance. Also, Evolve's technicians are only one click away and ready to answer any questions.
7. Price
What are you getting for your money? Remember to compare apples to apples: lithium is more expensive than lead-acid, professionally branded skate parts are more expensive and much better quality than off-the-shelf boards from China, and a longer range means a more expensive battery has been used. Who has made/assembled the board? Is it off-the-shelf from China, where cost is the bottom line, or has it been made by someone who is an e-board rider, passionate about performance? There is a large gap in the electric skateboard market in terms of price and materials used, the rule of thumb is 'you get what you pay for'.
It's also a very good idea to read electric skateboards reviews and research how long the company has been trading for and how they treat their customers!
8. Thumb or Trigger Remote Control
There are many electric skateboard remotes out there. The thumb remote control is like a joystick, which feels jerky. On the other hand, the index finger is the most intuitive way to control and feel anything. It is also the most simple and easy way to get comfortable controlling your electric skateboard.
With the advance in technology, remotes are getting smarter with a range of new features. For example, the Evolve's Phaze remote displays your real-time ride data. With four-speed modes, you can set your controller to meet your skill level as it progresses.
9. 2 Motors vs 1 Motor
Both can have benefits! Only recently has motor technology evolved enough to allow good performance from two motors - without sacrificing the smooth freeroll so important to the feel of a good skateboard. Previously, this has only been possible with one purposely designed motor and still offers notably impressive performance. 
In more recent models, though, specifically designed sensored brushless motors take advantage of the increased grip and performance from two driven wheels while still offering smooth performance and excellent freeroll. The key again is in the design of the entire system!
10. DIY Electric Skateboards
Building your own electric board sounds easy, but it is not. It requires a lot of time, patience, tinkering and money! There are DIY options out there. However, enter at your own risk and be prepared to wait for parts and waste time which is very frustrating. Evolve can make custom electric skateboards also and have been doing it for years!



If you want to dig deeper into the electric skateboards world, check out the Evolve Skateboards Youtube Channel