An Electric Skateboard Adventure to the Southernmost Point of Australia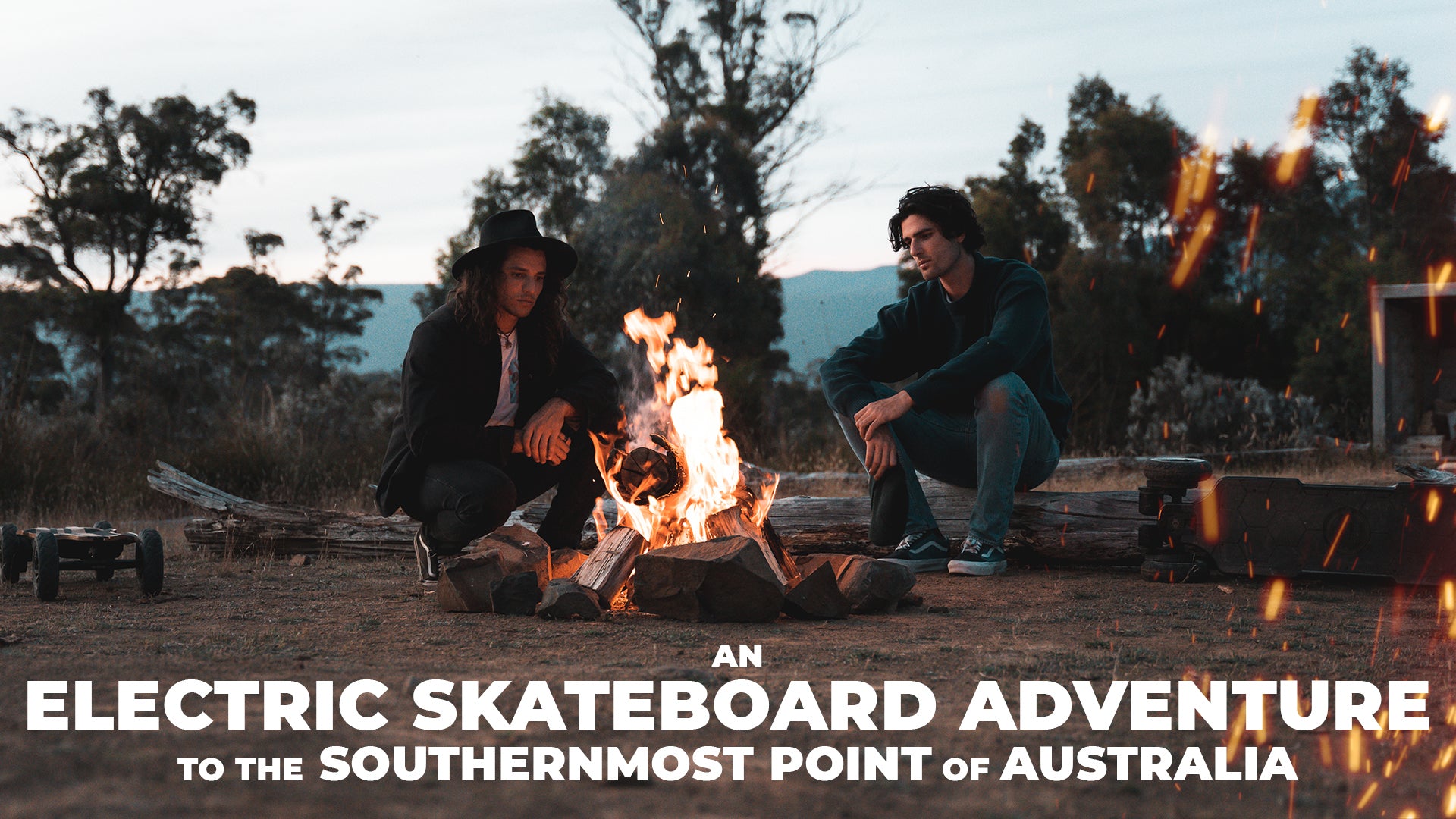 COVID-19 outbreak, supply chain delays, and La Nina storms. Scrap all that and transport yourself to the southernmost point of Australia: welcome to South East Cape, Tasmania.
In Australia, 2022 started off quite differently from previous years. Hundreds of people were in isolation because of the increase of Omicron spread in the country, with more than 400,000 active cases. The efforts to contain the spread of the disease put unprecedented pressure on the supply chains, with supermarket aisles empty for days. January rainfall figures were recorded across Australia because of the La Nina weather system. In the midst of all that, two friends escaped the fast-paced city and journeyed to the southernmost point of Australia to explore such a unique location on an electric skateboard.
"An electric skateboard really enhances any adventure you have" - Nelson Ferreira @nelfelife 
How to get to the southernmost point of Australia?
The South East Cape region is the southernmost point of Australia that you can reach by road. The location offers adrenaline-seekers a variety of trails to epic places, mainly through forests and near quiet inlets with a sense of remoteness. Asphalt, gravel, compact sand, there's no shortage of different terrains to be explored in that region on an electric skateboard.
"Tasmania reminds me that everything is possible and that what seems insignificant today, tomorrow, will become a beautiful memory" - Nelson Ferreira @nelfelife
During the weekend, they were also able to explore Cockle Creek's settlement, which is the furthest point south that one can drive in Australia, only a 2-hour drive from Hobart. Cockle Creek sits on Recherche Bay, a busy whaling centre when colonisation started in Australia. There are no shops in the area, and it really has a tranquil atmosphere making it such an enticing destination for an all terrain electric skateboard adventure. 
Another place to visit using an electric skateboard is Mt. Wellington, only 20 min drive from Hobart. In the latest ride, Patch went uphill riding a Hadean Bamboo All-terrain. The insane 1200m climb of Mt Wellington took him only 32 minutes, with a top speed of 44km/h. There's no hill that an Evolve Hadean can't tackle. The reward was a stunning panoramic view of Hobart, a fantastic place to soak some Vitamin N(ature) in.
One board and two different ways to use it
The two friends featured in the South movie, Nelson and Patch, started to ride an electric skateboard over a year ago. Since then, they have used their board for very different purposes. Nelson is a content creator based on the Gold Coast, living close to one of the best surf breaks in Australia. He began to ride it as a hobby but also as a tool at work. "As a content creator, I use the board in so many projects for both myself and clients. When you're thinking of getting that shot that is dynamic, or you have either someone running or a fast-paced action scene, I'll use my board to maximise that moment", said Nelson in a podcast interview.  
When Nelson is not working, you will find him e-skating. Electric skateboard is the ultimate carving machine. As he mentioned in an interview on YouTube, the carve on an e-skate is very similar to doing a snap on a wave. If you nail down your movements and get your body to understand how to do a proper carving on an electric skateboard, that will translate directly to doing a proper snap on a wave. It is also great for those who never skated or surfed, or tried any type of board sport and want to understand your body's balance.
While Nelson uses an electric skateboard as a hobby, Patch used to live in London and rode his board mainly for commuting. With an electric skateboard, you can hop on a train easily and don't need to search around a place to lock up the bike, for example. "With an electric skateboard, I'm not getting sweaty, I can easily take the board with me and it's a great conversation starter. It's such an addition to who I am and my life in London. I'm getting my fix while commuting, so good!" said Patch.
Watch the movie here 👇