Off-Road Electric Longboard: 3 Tips on How to Ride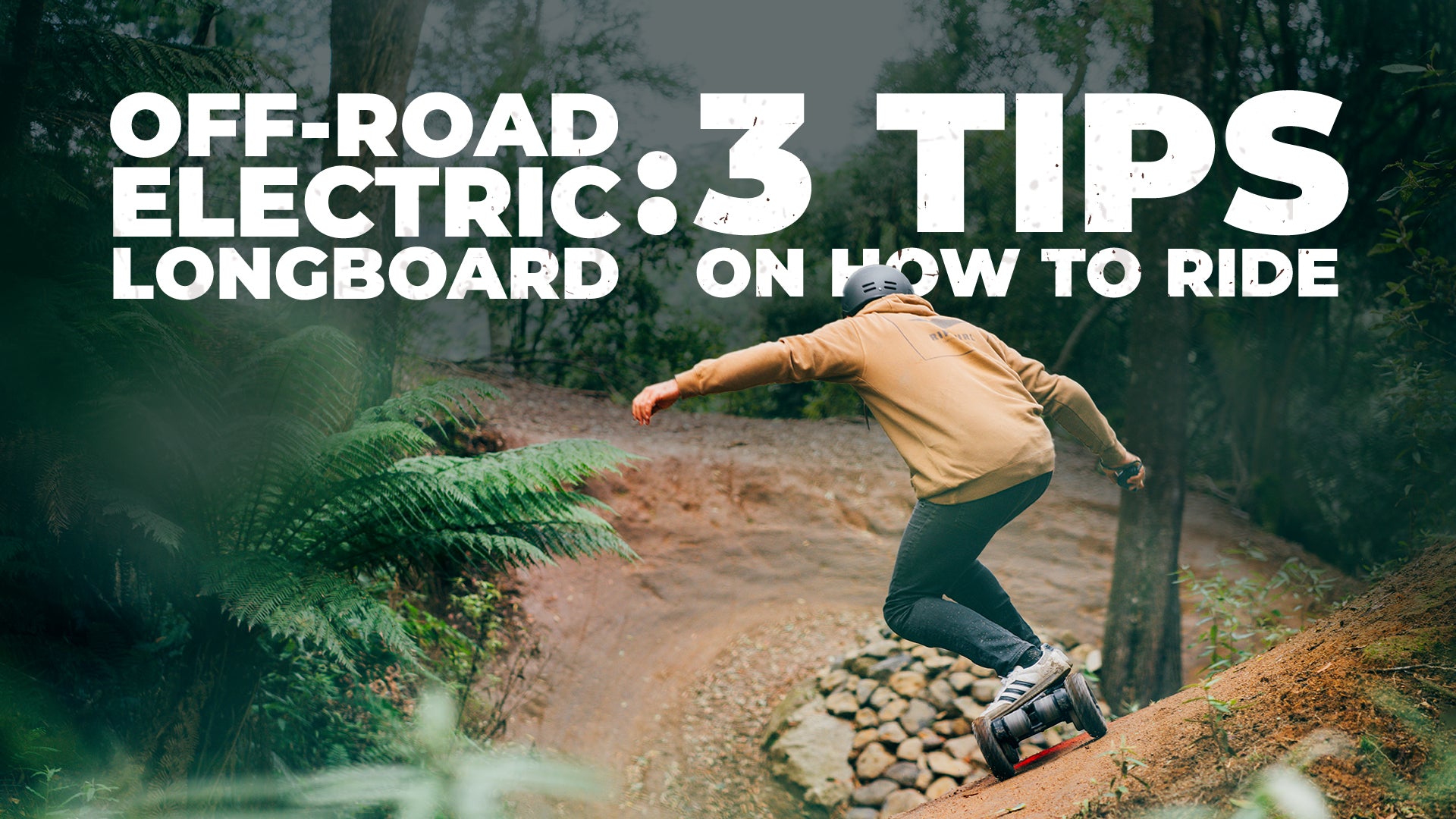 Off-road trails provide the perfect opportunity to get out in nature and challenge yourself with a new skating style. Before you hit the track, here are 3 top tips that will keep you safe while riding an off-road electric longboard. 
It's important that you have the right setup when hitting an uneven trail. Our first recommendation is to use off-road or all-terrain tyres.Off road tyres will give you the best grip in the corners, where it really matters. 
Off-Road Electric Longboard Tip #1: Use the appropriate safety gear
Safety never takes a holiday, so the biggest thing is to make sure that you always wear a helmet. Gloves are also recommended. If you take a dive, you want to make sure you protect your hands. Knee and elbow pads are a must-have as well, because you don't want to lose skin when falling. When it comes to protection, it is all personal preference, but the more protection you have, the safer you're going to be. 
Off-Road Electric Longboard Tip #2: Find off-road tracks that suits your level
When you're looking for a trail to ride with your electric skateboard, what you want to look for something that's wider, and smoother, with few roots, rocks, and bumps. A good place to start are beginner trails and once you're comfortable then you can start getting a little bit more adventurous.
Off-Road Electric Longboard Tip #3: Work on your stance and body position
Riding off-road is all about weight distribution and your body positioning on the board. When you're riding up or down hills, you want to make sure you have enough weight over the rear wheels because that's where the acceleration and braking forces are coming from. So, when you go up hill you want to keep a little bit of weight on the front, but you need to make sure you're still pushing down over the rear. This will keep traction, and you can slowly keep climbing up the hill.
When going downhill you want to keep some of your weight over the rear wheel because that's where the braking force comes from. When you're braking, you don't want to apply full brakes straight up because you might skid, and that's when the board can run away from you. Learning to control your speed on the track will be really beneficial.
EXTRA:
If you are riding on a mountain bike trail, respect other riders. If you hear other riders coming, call out, get off the track, wait for them to pass, and then get back into it. It's all about having fun – now let's get out there!
FAQ
What is an off-road skateboard?
Off-road skateboards are versatile boards that you can ride on uneven terrains, including dirt, grass, and gravel. These boards have off-road knobbly tyres that provide a more comfortable ride and greater traction on lose terrain. They're the ideal choice on days when you're not sure where your route will take you or want to explore rough terrains.
Can electric skateboards go off-road?
Yes, an electric skateboard with off-road or all-terrain wheels can go out off the beaten track. Grass, gravel or dirt, you name it! It's heaps of fun! 
An Evolve off-road electric longboard comes with standard all-terrain tyres. These wheels are a pretty good all-arounder. They ride well on grass, gravel, and dirt. However, they don't have quite as much traction as some of the other Evolve off-road wheels options.
The off-road knobbies are another type of tyre that you can use on uneven surfaces. They've got a lot more tread on them, a better grip in grass, and dirt. They do wear out a little bit quicker on concrete, but you do notice the extra grip when you're poking around in dirt and grass. On the road, they might feel a bit more slippery just because you have less contact patch, but in off-road situations, we recommend going towards these.
Can a skateboard go on gravel?
Yes, you can ride an e-skateboard on gravel. Riding an electric skateboard on gravel roads is the ultimate way to beat boredom for a good reason: incredible scenery, little or no traffic and plenty of places to explore.
Can electric skateboards go downhill?
Yes, electric skateboards can go downhill.
Stance and braking play are super important when going downhill. If you get down a little bit lower and keep your knees bent, you're going to be able to absorb the bumps when you're riding off-road, which are obviously inevitable. Your centre of gravity will be lower, so it's going to be a little bit easier to control.
About braking an electric skateboard when going downhill: to slow down you push the trigger forward gently on the handheld remote. The brake is firm when applied at medium to fast speeds and softer at slower speeds. It may not bring you to a complete halt.
Can you go uphill on an electric skateboard?
Yes, you can! With Evolve electric skateboards you can tackle up to a 35% gradient, depending on which type of board you have. We will tell you something: 35% gradient is super steep and you can achieve this on street wheels. All terrain boards can climb hills with a 25% gradient
When riding up hills, being smooth and consistent on the accelerator is key. If you're inconsistent or jerky on the trigger you're likely to fall off. The big tip here is really to understand your board and its setup. Get to know where the traction points are and how it corners. It will make your riding experience a lot better.
Maintenance
Be sure to maintain your board appropriately after travelling off road to ensure the longevity of your board and parts! Click here for more info.
Check out this video about riding an MTB trail👇